"

Joe Henry on Greg's 3rd album Concrete jungles. "i'm a sucker for that sonic pallet, I'm entertained" Recording artist and Grammy winning producer Joe Henry takes a moment out of his busy day" - Joe Henry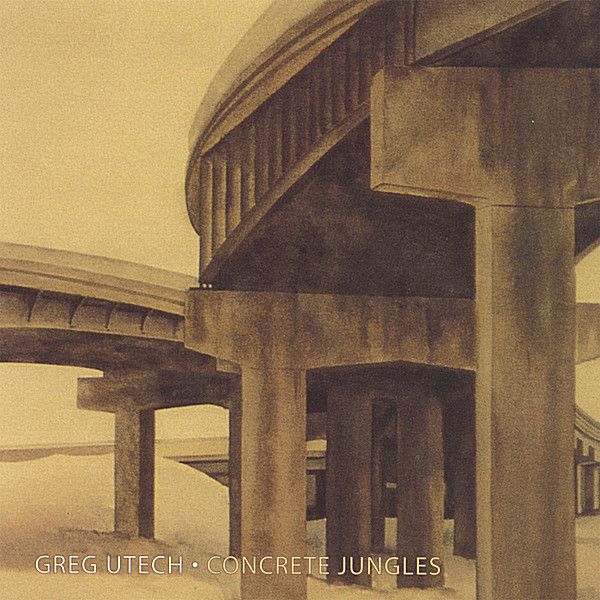 Concrete jungles
Artwork by Mark Rutkowski
(2006) featuring Walt Szymanski, Trumpet, ( Aretha Franklin, Ray Charles, Duke Ellington orchestra, JC Heard, and
arranger for American idol and dancing with the stars ).
Phil Kelly, Keyboard, Oddities. ( Joe Henry)
GREG UTECH
Concrete Jungles
(c) (p) 2006 Soundbite Records
It is difficult to characterize Greg Utech's music. The term Nu Jazz doesn't fully describe it because the creative work of Greg Utech goes beyond the borders and boundaries. As you listen to his "Concrete Jungles" you want to dive into its music and to lose all your anxieties and worries in it.
You just want to listen to Greg Utech's music time and again without any evaluations and comparisons. His music isn't similar to anyone else. It is very individual and particular. The artist masterfully expresses his personal feelings.
Sensual female voice and saxophone, slightly melancholic piano and keyboards, tuneful guitar, passionate percussion and rhythmic drums join together to form a charming and thoughtful environment. This music is full of modern world's grooves and voices and it, also, brings a new look at our urbanized everyday reality. You will undoubtedly make many unexpected and remarkable discoveries in "Concrete Jungles" of the versatile musician Greg Utech.
Acid Jazz magazine 
interview for November issue.
Translated from; Italian to English 
Greg Utech
Nu metropolitan Jazz
Reaching to the electronics, the city sonorous cacophonies and the immense patrimony soul-jazz of Detroit, the composer and polistrumentista American return with a third album loaded with rhythms experience them. Light and cerebral music that opens new horizons.
Electronic pulsations, city distortion of radio waves natched in the ether, rhythms and then a sweeping avalanche and being involved of atmospheres nu jazz. This, shortly, the musical world modeled with visceral passion from Greg Utech, songwriter and polistrumentista grown between album of Jeff Beck, Jimi Hendrix, Miles Davis, McCoy Tyner and Stevie Wonder, in order to only cite some of its points of reference. It has been above all its city born them, Detroit, to project it towards those atmospheres underground particularly legacies to the tradition soul-jazz. Those metropoli, are known, have been one forge of great artists thanks to the Motown label and have continued sfornare talents, like Amp Fiddler and Dwele. Encircled from this cultural ferment, Utech, also leaving from these influences, an artistic distance has elaborated originates them in which the past it melts with the present and the warm sound, authentic, harmonious of instruments which sax, bugle, bottom and keyboards amalgam with sonorous voices and synthetic constructions. In these vent' years, passed also to realize teatrali productions, it has tried to find an own formula where to be able to make to cohabit and to converse soul, jazz and experimentations of vanguard natched from the pioneering jobs of the istrionico Brian Eno. Ambitious objective that ours it is trying to realize as it proposes its album. Sin from the debut with Shortwave (2000) has forged sonorous acclimatizations loaded of innovation, of rhythms techno and sonorità jazzy. A style that appears more compiutamente elaborated with recent Concrete Jungles (2006), where the noises of the giungla metropolitan comes attenuated from the warm harmonies of stamp soul. Coadiuvato from a team of valid musicians, between which Rick Matle (guitar), Walt Szymanski (bugle) and Dennis Sheridan (percussions, berimbau), Greg Utech confirmation the versatilità like arranger, composer and polistrumentista (sax, keyboards, bugle, percussions, bottom, guitar), thanks to a job musically more elaborated regarding the previous ones, as same it has emphasized. "With Concrete Jungles I have intentional to ahead complete an ulterior step regarding Spank, my according to disc. Task that is easier to produce the successive job, since the ideas turn out clearer. Every new plan is always and however a challenge. My third party I have conceived cd it like rising of concept album, formed from several traces, but in the entirety oriented towards an only direction. And in my way to compose the fluidity of the rhythm it is always centers them". Like songwriter, s' it inspires beyond that to the turbinio metropolitan, also to the creative world of the art. "Loving the painting, every time that I compose I try to imagine and to construct a tavolozza colorful of sounds. With Concrete Jungles, I have tried sedurre the listener with I interlace of several musical shadings that I have reached from travel documentary, but also from the distortions of the frequencies radio. From here the title it that it reveals a melting pot not only sonorous. This passion final of the UK Songwriting Contest), wrapped from the warmth sussulti of the sax.manifesta through the places setting some of mine cd. I have many friends who work in the field of the visual limbs and try to be involved them in my musical plans. The artwork it is always in simbiosi with the mood total of the disc". Distributed from the label from created same he, the Soundbite Records, Concrete Jungles Sheila Landis sees the participation of the talentosa vocalist, than with its timbriche abilities to jazzistico stamp impreziosisce "Fever". Between the more representative traces we signal "City to City", charming connubio of melodia and rhythms jazz, selected not to case like sample for ours compilation, and the brano omonimo to the disc (arrived among other things in seeds 
Silvia Turrin - ACID JAZZ MAGAZINE 11-07 (Nov 23, 2007)
Syrupy soundscapes, jazzy progressions and electro-influenced beats co-mingle to produce mellow and beautifully realized night music from Motown. Behind these atmospheric jams is long time composer and multi-instrumentalist Greg Utech.
MusicZeitgeist.com coaxed the following insights about the crafting of these recordings from the artist:
MusicZeitgeist: Who is Greg Utech?
I have been a musician for over 30 years in the Detroit area. Mostly on drums, but I can "mingle" with most any instrument. I have released three disc's to date with my 4th CD due out in July. I appeared on Rick Matle's CD "Ears Wide Shut." Of course like most Musicians I have a "Day" job which just happens to be the best job in the world, a stay at home Dad to our first child Noah.
MZ: Where are you based? Has it influenced your output?
The "D". Born and raised in Detroit. This part of our world seems to have a Vortex of creativity, From Motown to Madonna, and all the Jazz greats it has been a treat to call Michigan Home. The long winters foster a need to keep busy and I think this has a small part to do with the plethora of talent to come from this area.
MZ: Talk about influences on your sound
Jazz, Fusion. Artist I would call mentors include Stevie Wonder, Donald Fagen, Miles Davis, John Coltrane, Joni Mitchell, Robbie Robertson, The Band, Pink Floyd, McCoy Tyner, Pharaoh Sanders, Jeff Beck, Bill Bruford, Tony Williams, Jack Dejonet, Elvin Jones, Fela Kuti, Peter Gabrial, Tereje Ripdal, Frank Zappa, Carlos Santana, Jimi Hendrix, Joe Pass, to name a few.
I worked in professional theater for 18 years at Meadow Brook Theater at Oakland University in Rochester, Michigan. From set design to writing the score for the 1993 production of Dr. Jeckel and Mr. Hyde. This along with being around the right crowd inspired my artistic style, From being involved in over 120 professional Theatrical productions, and being a part of all of them, from Shakespeare to Ain't misbehaving, I was exposed to some real creativity and different thought patterns that translate into my genre of music. Also a self taught abstract painter with over 30 major shows to date help play a major role in my tonal creations.
MZ: Tell us about your recording process.
Mostly from my modest studio at home I am able to create most of the rhythm and "beds" for each song, then it's off to a more technicaly sound studio for all the final mixing and last minute solos. I produce all the tracks with some help from my friend Rick Matle who also plays most of the guitar on my CD's. And of course when you are a one man show, it's then time for laying out art work, song titles and order, copyrighting, duplication, and finally all the marketing involved, especially if you want to make at least $12.78 per year. But it is the love of the craft luckily and not the fame and fortune.
MZ: So what motivates you to keep making and releasing music in these changing times?
"Everything has been done before."
It has to be fun to be somewhat unique in this world of soundalikes. The most memorable musical experience I have had was when Ralph Valdez, a DJ from WDET in Detroit, called and said he loved my 1st disc and would play it on his next show. We had a party that night and it felt as though a dream had come true.This event is realy what pushed me to continue on with endeavors. My music has also been aired on the Jon Moshier program, and "The Listening Room" with host Chris Felcyn. As well as KAOS FM in Olympia WA, Tomorrow Jazz, aTTeNTIoN sPaN raDIO, IPM.com, And reached the feature page on New Orleans Radio.com. With some generous reviews from, Joe Henry, Serge Kozlovsky, and a two-page spread in Acid Jazz Magazine by Sylvia Turin. Everyone has some "Big Break" if you believe in what your doing, and are not doing it for the money.
MZ: When will you know your work is done?
I guess my lofty goal of 10 disc's is still attainable, but with Cd's approaching 90 minutes these days it is like producing a double album from the old vinal days, so each disc so far has taken at least 2 years to complete, with the exception of my upcoming disc "Mars is Missing" which will be at about the three-year mark due to the birth of our 1st child Noah Gregory Utech. 
Ascender - MusicZeitgeist (Jul 19, 2010) 
http://sergekozlovsky.com